---
---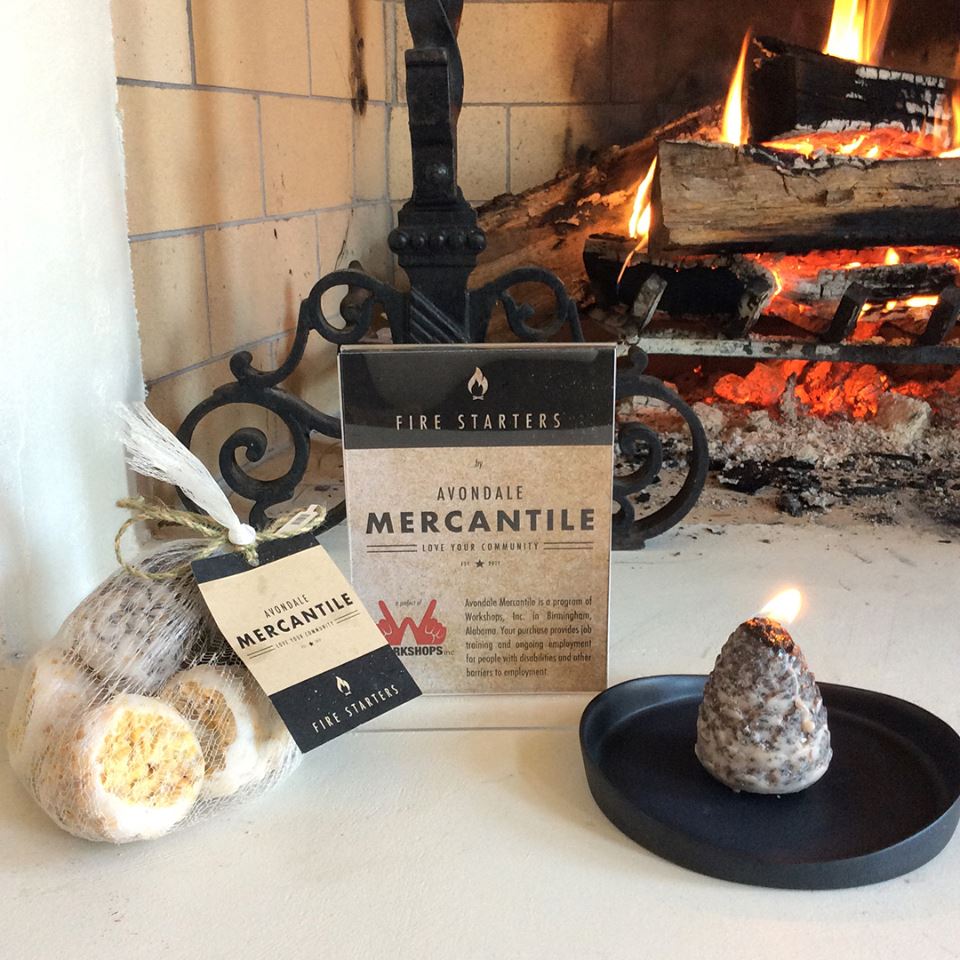 Workshops, Inc. is pleased to announce the launch of Avondale Mercantile, a new venture in which our employees and trainees produce handmade products for you and your home.  Our first product - just in time for holiday gift-giving - is handmade fire starters.  
Our long-burning, decorative pine cone and cube fire starters are perfect for your holiday fireplace, outdoor fire pit or campfire. Made from sawdust recovered from Alabama Sawyer, one of our Avondale neighbors at MAKEbhm that crafts beautiful products from reclaimed urban forests.  The paraffin is also recycled. The cones are packaged in decorative bags of 6, and the cubes in bags of 12 - either way a perfect gift for your friends and family (or yourself!).
Thanks to our first retail partner At Home Furnishings in Homewood, AL!  And to our new partners - Swoon in Cahaba Heights, Junky 2 Funky in Irondale, and for our friends further south, Chapel Farm Collection in Fairhope. Stop by today to pick up your fire starters and help us spread the word.  Check back often to learn about additional retail partners and future products.
Avondale Mercantile is a program of Workshops, Inc. Products produced by Avondale Mercantile are made by people with disabilities and other barriers to employment right in the heart of Avondale, Alabama.Your purchase provides job training and ongoing employment opportunities for the people we serve.
Since 1900, Workshops, Inc. has provided job training and employment opportunities by doing work for other businesses. Avondale Mercantile is the next step in the evolution of Workshops, Inc. and allows us to produce our own products to sell in the community.
Our Vision
We will always be there to serve the Greater Birmingham business community with business solutions. But we also recognize the value of having our own brand and product line. Our vision is that Avondale Mercantile becomes a recognized, trusted brand name for a variety of products made right here in Birmingham.