Assembly and Packaging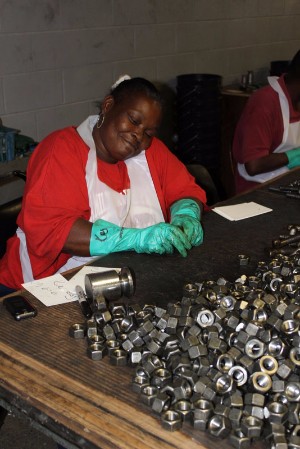 Workshops, Inc.'s Assembly and Packaging Department provides businesses with handwork and product packaging.  Our largest business customer in this department is Birmingham Fastener, and we help this local company save money by supplying a workforce to marry nuts & bolts and package hardware.  Our assembly services support work as simple as marrying nuts and bolts and as complex as assembling outrigger pads for a local major utility company.  Tell us your needs, and we will find a cost-effective solution!  

For questions, estimates and quotes, contact;
Kathy Dunn, Director of Operations by email or at 592-9683, ext. 241 
Carl Free, Manager of Industrial Assembly Department at 592-9683, ext. 256 
Some of the businesses who rely on Workshops' Assembly & Packaging services include: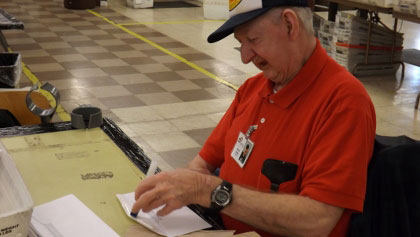 Mailing and Fulfillment
Workshops, Inc. operates a Light Assembly Department dedicated to providing you with business solutions you need to save time and money. Below is an example listing of our capabilities. If you don't see your need specifically listed, give us a call and we'll see what we can do to help you find your solution!
First Class and Bulk Mail Preparation
We prepare both automated and non-automated mailings for our customers; offering first class and pre-sort standard mail preparation.
Collating, Nesting, Inserting & Labeling
We specialize in hand work for items too large or specialized to be handled by machine.
Tabbing
The U.S. Postal Service runs mail through machines which will damage self-mailers if not properly tabbed. To obtain automation rates for self-mailers (letter size), they must be sealed by tabs.
Glue-Dot/Tip-On
Add a discount card or magnet to your marketing materials using removable glue dots.
Meter & Stamp
Metering is the application of postage onto a mail piece based upon weight and class. We also apply live stamps upon request. We accurately handle posting of mail for multiple high volume customers.
Folding
Capable of folding all types of personalized documents while maintaining sequence for job integrity. We also provide bi-directional folds, z-folds, tri-folds and other specialty folds.
Shipping
We utilize the United States Postal Service for most mail, and for expedited or parcel shipments, we use FedEx and UPS shipping services.
Fulfillment
We assemble and ship marketing materials for rapid distribution. We also fill orders for many specialty products that are shipped across the country as product orders are received. Limited storage space for inventory may be available.
Delivery & Pickup
Workshops, Inc. is able to provide pre-scheduled pickup and/or delivery service for materials in and around the Birmingham area. Additional pickup/delivery fees may be applied to your project based on distance and size of load. We also deliver daily to the downtown Birmingham Post Office.
Printing Services
Workshops offers limited printing services for our mailing customers. Full-color digital printing is available, as well as ink jet services for customized mailings.
For questions, estimates and quotes, contact us.